"The Oasis of Tampa Bay"
4009 Lynn ave. Tampa, Fl 33603

We meet on Saturday 7pm for worship…

We, also, meet in our home for "Soaking prayer" 7:30 Friday nights

and prayer for families & children bi-weekly at 7:30.
We are a "Catch The Fire" soaking center connected with the Toronto Airport Christian Fellowship.


We are part of the Clear River Network of Churches based out of "Life Center Ministries" in Harrisburg, Pa.

www.lcmi.org





ABOUT:
Dan & Pat Eberly have a vision to see the Church established as a House of Prayer and Worship in the Tampa area.
We have "soaking prayer" and prayer for children and families in our home.


Dan & Pat have pastored and have been in active ministry in the Tampa area for more than twenty-eight years and are raising up a new work that will be glorifying to God and meet the needs of hungry worshipers who desire to seek Him with all of their hearts.
Dan is the President of Victory Christian Schools, one the the oldest home schools in the nation. This school was instrumental in helping to establish many of the state home school laws that allow the freedom that is thoughout the nation concerning home schooling.
Dan & Pat have three adult children and three grandchildren. Ben, Nikki, and Ferlita live in Colorado, Katrina, Jason, Serai, Aiden, and Taylor live in Pennsylvania, and Adriel lives in Tampa.
Pat grew up in a Christian home and was saved at an early age. She has rich experiences of growing up in a Pastor's family. Her father pioneered bi-racial a church in Atlanta in the early 1960's. Her love for everyone has made her an effective mother to our three bi-racial adopted children.
Dan grew in a Christian home and was saved at age eleven and then had a genuine conversion at sixteen. He has a passion for bible reading, worship, and memorization. He graduated from Florida Bible Beacon College and Elim Bible Institute with academic honors, degrees in Bible and teacher training.
Dan has traveled throughout Europe and India helping missionaries, teaching, and encouraging the work of the Lord.

Dan and Pat's involvement with home groups, ministry teams, coordinating city wide events, and soaking prayer make them highly effective in releasing a personal touch of the love of God to individuals on a very personal and practical level. They have a heart and passion to see the "little ole' me's" released to be a great army of effective ministers. Their prophetic and healing ministry is a natural response of who they are.

OUR MUSIC STYLE INCLUDES: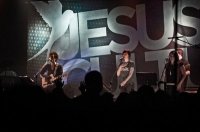 www.jesusculturemusic.org/ – 14k – Similar pages
www.ihop.org/ – 34k – Similar pages


We're on Facebook
PICTURES AT THE OASIS:
http://www.facebook.com/album.php?aid=180374&id=1156452195&ref=mf